Doak S. Campbell Stadium Information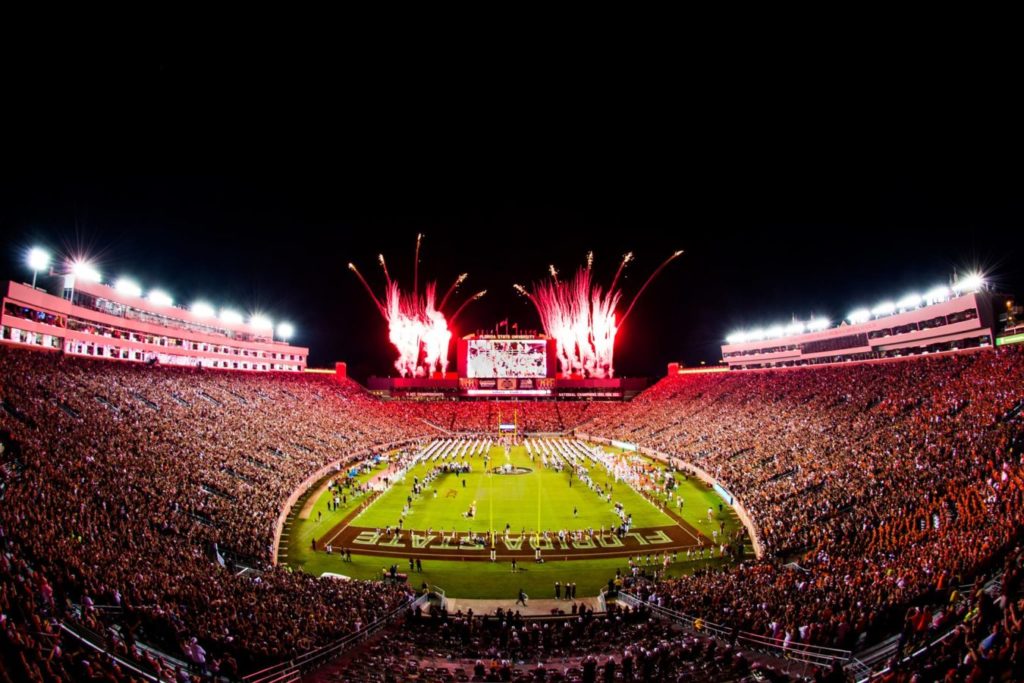 Florida State first began to play at Centennial Field for the dedicatory 1947 season. In the three seasons that the Seminoles called Centennial Field their home, FSU had an overall home record of 8-4. Some of the most notable games were Coach Don Veller's undefeated 8-0 home mark in the 1948 and '49 seasons. Doak S. Campbell Stadium (in full Bobby Bowden Field at Doak S. Campbell Stadium) is located exactly where Centennial Field used to be in Tallahassee, Florida.
It's hard for fans today to imagine the first Doak Campbell Stadium, with a capacity of 15,000 back in 1950. By 1954, the stadium grew to a capacity of 19,000 and 6,000 more seats were added in 1961. From 1960 until 1970, the stadium was expanded to 40,500 seats, and it remained at that capacity for the next 14 years. Between 1978 and 1982, there were three more additions. From a maximum capacity of 15,000 in 1953 to a record crowd of 84,525 against Miami in 2005, Doak Campbell Stadium has come a long way in college football.
In its last 104 home games, FSU is 96-7-1. Bobby Bowden's Florida State teams have lost only 21 home games in 29 years. Their winning record gives the coach an impressive 147-21-2 record and an 87.1% win in Tallahassee. A milestone was reached on September 28, 1996. On that date, Bowden won his 100th game in Doak Campbell Stadium as FSU's head coach with a 13-0 victory over North Carolina.
On the other hand, the 1950 Homecoming half-time show included a dedication ceremony naming the stadium in honor of university President Doak S. Campbell. Marching Chiefs band made a special performance and "FSU Fight Song" was premiered. Dr. Campbell was president of Florida State College for Women, as it made the transition from an all-female school under that name to the coeducational Florida State University, between 1941 and 1957. During his time as a president of the university, he supported a sports program at the school and encouraged the construction of a football stadium. Dr. Campbell retired from his position on June 30, 1957. However, he remained in the Tallahassee area as President Emeritus until his death in 1973.
Surprise to many, FSU football dates back to the early 1900s although most people would assume that FSU football started in 1947 when the University went back to being co-ed. In the beginning, FSU was an all-male school for its first years of existence from 1851-1857.
FSU first fielded a football team in 1900. By 1904, FSU had won their first State Title. All that was prior to the racist Buchman Act passing in 1905, which made FSU an all white female school. The act also caused UF to be an all-white male school and FAMU an all-black school for the next 40 years. Prior to that, from 1858 to 1904 Florida State was co-ed but with the exception of the 4 year period of the civil war. During the war, it became an all-male military school.
Additionally, FSU also had the honor of having Bill Peterson as their head coach from 1960-1970. Peterson, or better known as "Coach Pete, is credited with bringing the pro passing game to college football and was considered a unique character. He is also known as the "Coach of Coaches". He tutored coaches such as Joe Gibbs, Bill Parcells, Bobby Bowden, Don James, Dan Henning, Ken Meyer, and many others. Coach Pete is also remembered for his reshaping of the English language. Last but not least, Peterson is best remembered for bringing the Seminoles to the forefront of college football, using pro-style offenses and a much-feared passing game.
For further information on the Doak Campbell Stadium at Florida State University, visit the pages listed below.
Parking Information:
Read about parking options available to event goers on the  Doak S. Campbell Stadium parking information page.
Ticket Policies:
For information on ticket guarantee and on our preferred ticket marketplace please view the Doak S. Campbell Stadium tickets page.
Seating Chart & Information:
For information on accessible seating and see the venues seating map, please view the Doak S. Campbell Stadium seating chart page.
High Over Towering Pines Song:
To read about the famous High Over Towering Pines Song please click this link. You can also see the lyrics and memorize it for the next game!